Getting married in the heart
of Tuscany
With us, you'll find the perfect location for your Tuscan wedding. Set in an enchanting country scenery, this oasis of tranquillity is the perfect location for your special day.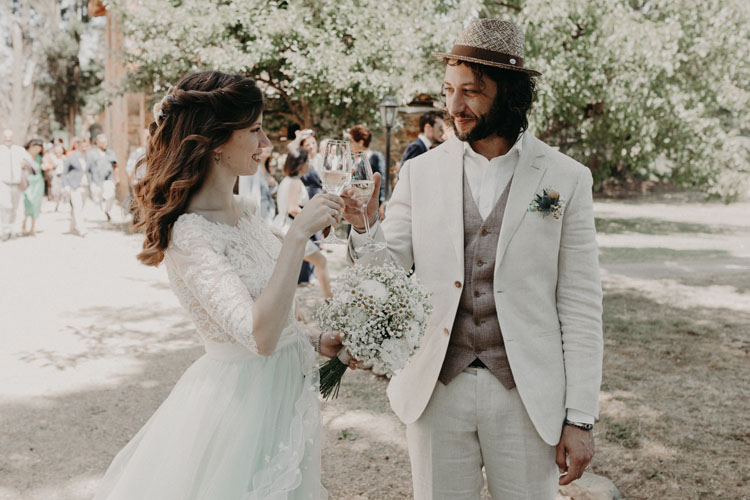 The swimming pool overlooking the lake makes an ideal place for exclusive receptions and buffets.
You'll have the opportunity to enjoy a great variety of settings: the lake with the fabulous background of the Tuscan landscape, the large pergola overlooking the vineyard, the various courtyards and the swimming pool overlooking the lake.
We'll help you organise the perfect event and we can advise you on the best catering providers in Tuscany.
This charming location, with its beautifully renovated historic farm buildings, offers the perfect setting for country-chic events. The tranquil and enchanting surroundings of the Tuscan countryside ensures you an exclusive and unforgettable event.
OUR PROFESSIONALISM AT YOUR SERVICE
On the day of the wedding, we will help you spend a serene and untroubled day together with your loved ones. The indoor halls and the outdoor spaces are also a perfect location for work events, courses and conferences.
The property is also ideal if you are looking to organise a course in a private and peaceful environment. Making use of the nine self-contained and fully modernised apartments, you'll be able to accommodate up to 35 participants for the entire duration of the course.
The lovely outside pergola and two big halls of 120 and 145 m2 can accommodate events with a large number of guests. They will allow you to organise an event without worrying about weather conditions.
Area: 120m2
Average height: 3.40 m
Capacity theatre style: 78
Catering: up to 110 people
Area: 155 m2
Average height: 3.40 m
Catering: up to 140 people
Area: 144m2
Average height: 3.30 m
Capacity theatre style: 91
Catering: up to 130 people
n. 1 Male toilet
n. 1 Female/disabled toilet
n. 1 Professional kitchen for use by catering personnel. *
1 Wood oven
* Use permitted only to personnel with catering licence.
1 Female/male bathroom with two sinks in common area and 2 separate toilets