Singing holiday on 19 - 25 June 2023!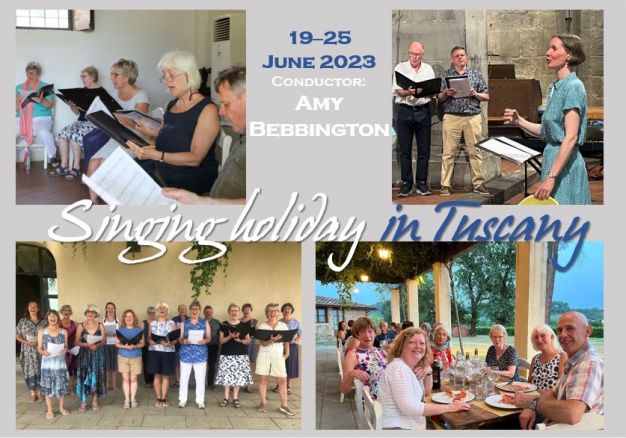 We are offering a SINGING HOLIDAY at Antico Borgo La Torre on 19 - 25 June 2023, with the highly acclaimed conductor Amy Bebbington.
This holiday is for those who love to sing choral music! It balances concentrated mornings full of wonderful ensemble music making, alongside the opportunity to have some 1:1 vocal (or choral leadership) coaching in the afternoons. The choral repertoire will feature an enjoyably broad mix of styles from all periods, catering to a variety of tastes.
This inclusive singing holiday will allow you to develop your vocal potential and to discover new repertoire. This is all set within our tranquil Tuscan farmhouse, while enjoying wonderful Italian cuisine in the company of fellow singers. On the last day, you'll be able to take part in an informal public choir performance.
This singing holiday is for a group of 15-20 people.

Rate: €1250 per person (in a shared double/twin bedroom).
For more information and to book email: info@anticoborgolatorre.it Or call Federica: +39 320 62 75 789. (Please check your spam mail if you don't hear from us within two days).
PROGRAM:
- Day 1: Arrive on Monday 19 June (check-in between 16:00 and 18:00). Pick up from Figline Valdarno station in the afternoon, on request. Early evening: guided tour of the farm and wine tasting in the farm's own winery. Welcome dinner at 20:00.
- Day 2 (Tue): Breakfast. Morning choir rehearsal from 10:00 to 13:00. Buffet lunch. Early afternoon: optional 1:1 coaching. Pre-dinner singing: 18:00-19:00. Communal dinner 19:45.
- Day 3 (Wedn): Breakfast. Morning choir rehearsal from 10:00 to 13:00. Buffet lunch. Afternoon: optional 1:1 coaching. Pre-dinner singing 18:00-19:00. Pizza night: you will be able to learn how to make pizza and enjoy it fresh from our pizza oven.
- Day 4 (Thu): Breakfast. Day off! Optional trip to Florence, with complimentary transfer to/from Figline Valdarno train station. Pre-dinner singing: 18:00-19:00. Communal dinner 19:45. Optional dancing in the local village of Vaggio!
- Day 5 (Fri): Breakfast. Morning choir rehearsal from 10:00 to 13:00. Buffet lunch. Late afternoon: optional 1:1 coaching. (No pre-dinner singing). Communal dinner 19:45.
- Day 6 (Sat): Breakfast. Morning choir rehearsal from 10:00 to 13:00. Buffet lunch. Short afternoon rehearsal. Evening performance in the Romanesque church in Cascia (Reggello). Farewell dinner.
- Day 7 (Sun): Departure. Latest check-out time at 10:00. On request, after breakfast drop-off in Figline Valdarno train station.
Rate includes:
- 15 hours choir rehearsal, and 1:1 coaching on first-come first-served basis (six places available).
- Accommodation in comfortable suites, arriving on Monday 19 June and leaving on Sunday 25 June.
- Breakfast, buffet lunch and communal dinner with fabulous Tuscan food (wine not included but the farm's own wine can be bought on the premises).
- Use of the swimming pool (please note that use of a swimming cap is compulsory).
- Final performance.
- Wine tasting and tour of the farm.
- Transfers to and from the local station in Figline Valdarno, an easy 30 mins train journey from Florence, for guests travelling with public transport. The complimentary transfer is offered on the days of arrival and depature, as well as on the 'day off' for those wishing to visit Florence. (Free car parking is available at the farm if required.)
Rate does not include:
- Wine at lunch and dinner.
- Optional visit to Florence (including lunch in Florence) - however, free transfer to the local train station Figline Valdarno is provided.
- Single room supplement of €300 per week.
- City tax €1 per person/night.
Non-participating partners are also welcome, and will enjoy a €200 discount when they share a bedroom with their participating partner.
For more information and to book email: info@anticoborgolatorre.it Or call Federica: +39 320 62 75 789
ABOUT THE TUTOR:
Amy Bebbington is a highly experienced tutor of choral courses, and brings a fresh, dynamic and creative approach to choral leadership. She is a passionate advocate for choral singing and is in great demand as a workshop leader, choral clinician, animateur, adjudicator, mentor and teacher. With clear musical goals at the root of her work, Amy shares an infectious sense of enthusiasm, joy, wonder and humour when engaging with amateur singers. She has appeared on the BBC2 programme "The Choir: Sing while you work" and is the Director of Training for the Association of British Choral Directors. Amy is a co-founder of the London International Choral Conducting Competition, Wavelength, and is a founding member and UK Ambassador for the International Choral Conducting Federation. Amy has adjudicated for festivals in the UK and Ireland, and is a published composer. She is currently the Musical Director for Corra Sound, Harlequin Chamber Choir, Sir William Perkins's School Chamber Choir and Nota Bene.
ABOUT THE ACCOMMODATION:
You will be hosted at the farmhouse buildings of Antico Borgo La Torre, in the tranquil and enchanting surroundings of the Tuscan countryside. The property includes Chianti vineyards, olive trees and a lake inside the property. Guests will enjoy comfortable rooms, a spacious and well-equipped studio, a large natural garden and a 20 metre swimming pool.
INAUGURAL COURSE MUSIC (June 2022):
(For information only - Final repertoire to be decided based on voice ranges present)

Ave Verum Corpus, Byrd
Jesu Dulcis Memoria, Victoria
Oi Khodyt' Son Kolo Vikon, Ukrainian lullaby, arr. Jake Alexander
Harbour, Anna Tabbush
Fields of gold, Wendy Sargeant
Here comes the sun, Craig McLeish
Weeping, from Songs of a Rainbow Nation, Alexander L'Estrange
La, la la, Pierre Certon
Tourdion, Pierre Attaingnant
TRAVEL INFORMATION:
Included in the fee is pick-up from the train station in the town Figline Valdarno, which is 10 minutes' drive from us. The station has a good connection with Firenze's central train station, Firenze Santa Maria Novella, which can be reached in only 20 minutes with the intercity train.
By plane:
The closest airports are in Florence, Pisa and Bologna. From Florence airport you can take a tram directly to Florence's central train station, Firenze Santa Maria Novella. From Pisa airport, a tram will take you to Pisa's central train station in 5 minutes, from where you can catch a train to Florence. At Bologna airport there is a shuttle bus to Bologna's central train station, from where you can reach Florence in 40 minutes.
Also, car rental companies can be found in all the airports. Typical drive time directly to us from each of the airports:
Florence Airport (FLR): 50 minutes
Pisa Airport (PSA): 1 h 30 minutes
Bologna Airport (BLQ): 1 h 45 minutes
TERMS AND CONDITIONS OF BOOKING:

To reserve your place in the singing holiday you should write an email to info@anticoborgolatorre.it. A non-refundable deposit of €200 is due upon registration.
The remaining balance can be paid in full or in two instalments of 50% each, one by 28 February 2023 and the 2nd one by 31 March 2023.

For bookings made less than 12 weeks in advance of the start of the singing holiday, the full amount must be paid at the time of the booking.

In the unfortunate event that you need to cancel your booking for any personal reason (e.g. illness) claims should be pursued through your travel insurance policy.

If for any reason the singing holiday is cancelled by Antico Borgo La Torre, the full payment, including deposit, will be 100% reimbursed to you. Please note that we only refund our own singing holiday fees, we do not refund the cost of travel or other third party costs.

For the comfort of all guests, smoking is not permitted inside the accommodation.

Complimentary transfers from Figline Valdarno train station are offered by Antico Borgo La Torre on the first and last day of the holiday. If you need to arrive or depart outside of the designated pick-up times, or if a transfer from a different location is required, private transfers can be arranged at extra cost.